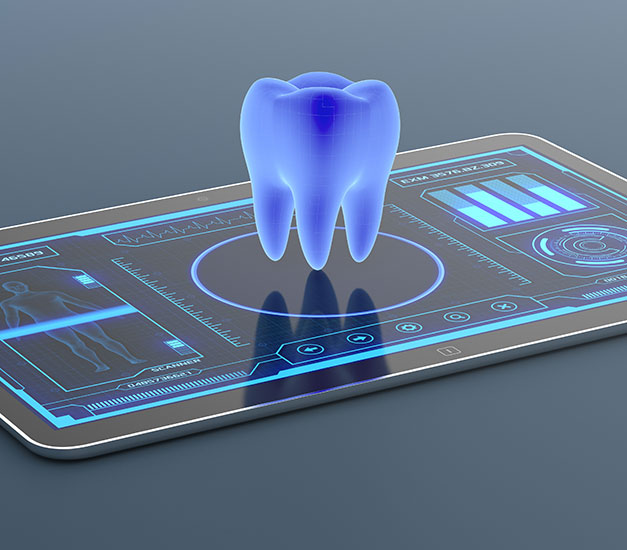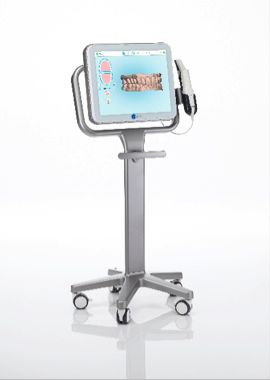 iTero Element Scanner
Compact Footprint
With the iTero Element scanner, you can fit high-precision scanning power almost anywhere. Choose between two form factors for the option that best fits your practice.
Certified Connectivity Workflows
iTero Element scans are engineered to work with the Invisalign system, the exclusive Invisalign Outcome Simulator, OrthoCAD®, and OrthoCAD Viewer. It's also designed to connect to restorative and orthodontic labs, third-party treatment planning, custom implant abutment, chairside milling, and lab CAD/CAM systems.
Advanced Wand Features
The wand features built-in controls, including side buttons and touchpad for user interface control. Integrated gyro technology lets you rotate models on screen. Plug and play wand cable quickly connects and disconnects to the base unit. And the patent pending ITO defogging system defogs instantly without needing air or extended warming.
Custom Wheel Stand Option
Move the iTero Element intraoral scanner easily between operatories.
20X Faster Speed
iTero Element image sensor is designed to enable 20X faster scan speed versus the previous iTero scanner.
6,000 Frames Per Second
The iTero Element scanner is engineered to capture 6,000 frames per second.
3D High-Impact Visualization
Show patients exactly what you see for more effective chairside communication.
40% Smaller and Lighter
The iTero Element wand is smaller and lighter than previous iTero scanners.
Real-Time Visualization

Industry-leading, open-choice imaging lets you view images in 3D. Easy visualization improves visibility and chairside communication with patients.

High-Definition Multi-Touch Display

Scanned images appear instantly with crisp definition on the 19″ high- definition, multi-touch display. The display also works with latex, vinyl, and nitrile gloves.

Intuitive Operation

Intuitive operation can transform clinical workflows. Spin, pinch zoom, and process images with a touch.

Time Savings

With a scan capture time of 40-50 milliseconds, the iTero Element scanner is designed to capture 20 scans per second.

Color Scanning

Vibrant color allows practitioners to easily distinguish between gingival and dental tissue for more precise clinical evalutation.

Convenient Counter Stand Option

Integrate the iTero Element scanner as a stationary unit within the operatory.
Simultaneously Smart and Powerful
In addition to its sleek good looks, the iTero Element intraoral scanner includes intelligence designed to help you work even smarter. You can eliminate extra process steps during intraoral scanning because the iTero Element scaner is designed to automate those for you.
Smaller Wand
40% smaller and lighter than the previous iTero system's wand.
Scan in Motion
Continuous scanning design lets you scan in motion. The software automatically detects and repositions scanning start and stop points when you move to a new scanning position within the scanned segment.
And while you are scanning, the iTero Element scanner is engineered to simultaneously process the scan. It automatically stitches together images for rendering in the correct order, adapts to changes in positioning, and detects and removes soft tissue. Capture everything and view exactly what you need to see.
---
Scan in Color
Color scanning gives you a significant leap forward in visualization. The color sensor is integrated in the iTero Element scanner, and the patented dual-aperture lens system is designed to simultaneously capture 2D images in color with highly accurate 3D laser scanning. Color scanning can make it easier to distinguish between gingival and tooth structures for a more precise clinical evaluation.
---
Scan and Save Data
The iTero Element intraoral scanner is designed to automatically save scan data every two seconds and save it to the system's hard disk. There's no need for a battery backup. Even in the event of a power outage, scan data is safe, so you don't have to worry about losing your work.
While some people are excited at the prospect of Invisalign® or other straightening treatments, other people are apprehensive and unsure. Fortunately, we use the latest technology to help show people the bigger picture. With the iTero® Element Scanner, we can scan the patient's teeth, provide a professional image of the teeth and create images that show where the teeth will end up after the procedure. With this technology, we can help assure you that the treatment you choose will meet your needs.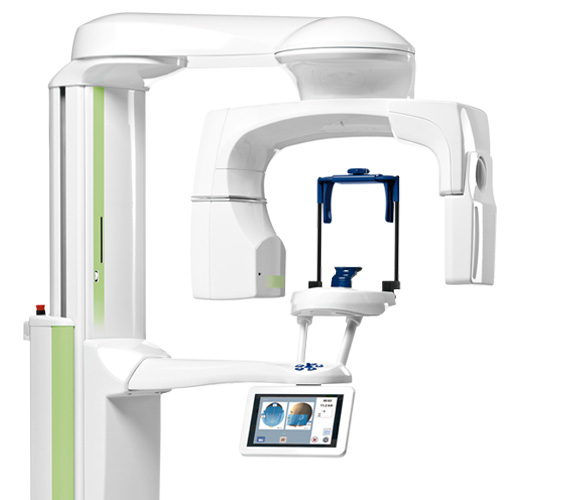 Planmeca ProMax 3D Mid
Genuine all-in-one unit
Planmeca ProMax® 3D Mid is a genuine all-in-one CBCT (Cone Beam Computed Tomography) unit including 3D imaging, 3D photo, digital 2D panoramics and cephalometry, all in the same unit.
Wide volume size selection.
Handles a wide range of diagnostic tasks.
Adjustable – volume sizes and resolution modes
Volume sizes from Ø34×42 mm to Ø200×170 mm
Planmeca ProMax® 3D Mid complies with a multitude of diagnostic requirements: those of implantology, endodontics, periodontics, orthodontics, dental and maxillofacial surgery, and TMJ analysis. It is also an excellent tool for diagnosing ear, maxillary sinus, and respiratory tract diseases.
Planmeca ProMax 3D Mid provides volumes sizes for every clinical application with the possibility to adjust the volume position according to acquired scout images.
One of the most important steps for any form of dental treatment is to get a proper scan of the patient's teeth. With the Planmeca ProMax® 3D Mid, we can take a full panoramic X-ray of the patient's teeth. The flexibility of this technology allows us to reach the angles necessary to capture all images of your teeth. Our team has the skills, training and expertise necessary to operate the precise and complex movements of this technology to provide better images than past tech and enhance treatment.
Laser AMD Picasso Light ( soft tissue laser )
Gingivectomy
– With Brackets
Tissue Ablation
– Seating Crown
Open Tissue
– Immediate Implant Provisional
Open Tissue
– For Immediate Implant
Open Tissue
– For Small Implant
Recent Posts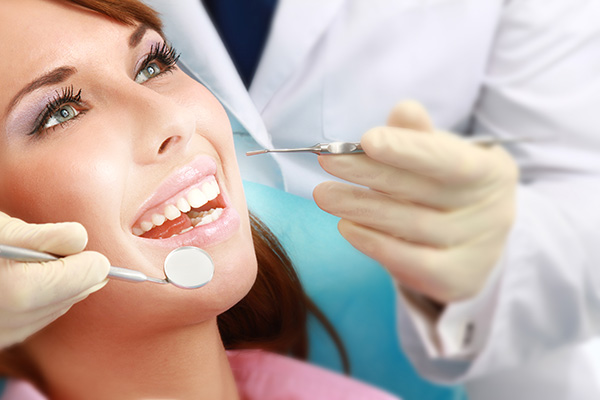 You decide you want a teeth whitening treatment. You consider using a teeth whitening tray at home, but is this the right choice? Discover the pros and cons of at-home trays. With the following information, you can decide whether to use the trays in an informed manner.Patients who opt for the proper products may get…